Here's a not-so complete discography of the collectedSweet Baby works.
Bay Mud - compilation cassette, 1986.
Lethal Noise #2- compilation cassete, 1986.
Never Mind The Bassets - demo tape (20 songs) 1987
Turn It Around- double 7", Maximum Rock 'n' RollRecords. 1987
The Thing That Ate Floyd- Lookout! Records, 1988
It's A Girl! Ruby/SlashRecords, (13 songs), 1989
Submarine Races- unreleased second album (10 songs)1989
Lest We Forget- tape compilation, BBT Tapes/Take A DayRecords, 1991
Hello Again! Lookout! Record's (splitl CD with Brent'sTV) 1996.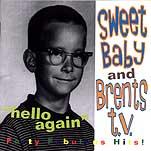 It's a Girl!- Lookout! Recordsrerelease, 1996
Heide Sez- Lookout! Records CD compilation.